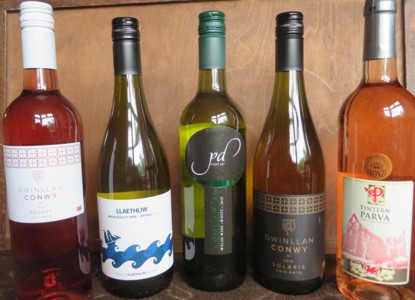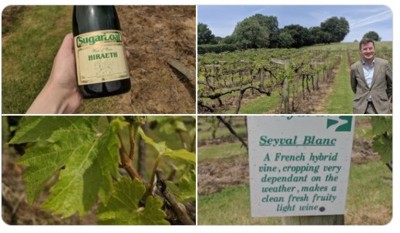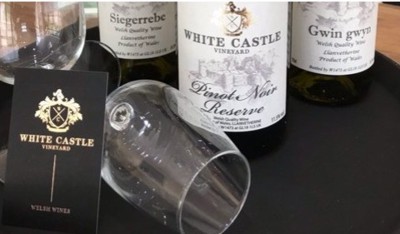 The first flowers of summer?
As of the 3rd June, Sunny Bank Nurseries are experiencing the start of flowering on some experimental varieties and on Triomphe too. This includes a David Macgregor variety that has an amazingly strong scent almost reminiscent of honeysuckle the way it wafts on the air. But just as the weather turns … so we shall see how flowering actually goes! By early June we had a monster Cabernet Cortis flower basking in the sun at 27.1c our record recorded temperature – on a mid-post not an end post. Cabernet Cortis is resistant to Downy mildew and botrytis. It is a Freiburg hybrid, bred from Cabernet Sauvignon and Solaris. the grapes are red. We were fortunate not to suffer any frost damage in the vineyard at 180m in Herefordshire - a few ground level shoots only were crisped – which saved me bud rubbing those ! We look to have lots of flower but who knows as usual what the weather may do to turn that into fruit However our fleeced hardwood cuttings at ground level did suffer – but secondaries appear to be pushing on most of those so hopefully we will have plants to sell .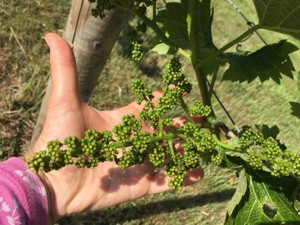 As Robb Merchant, the Chairman, has already told you, the Annual General Meeting has been postponed because of the Coronavirus Pandemic. It will now be held, via Zoom, on the 16th July at 4p.m. News of future meetings, including the competition, will be sent directly to you as and whan the situtaion clarified. Anyone interested in assisting with the running of the Association, please let the Chairman know.
Those anxious to get wine back from their winemaker may have noticed the correspondence current on Vinelist. Basically, this seems to suggest hiring a respected carrier. If going yourself, obtain an Essential/ key worker journey certificate
The North creeps ever further northwards
Thirty years ago, the most northerly vineyard in Britain was believed to be at Renishaw Hall in Derbyshire. In Wales, Worthenbury was active in the early C21st. and Pant Du was planted shortly afterwards. Now the most northerly in Wales is (marginally) Red Wharf Bay. On the westernside of Britain, there were no commercial vineyards near to this. Cheshire had one (Carden Park) which is still active). However,in Lancashire, apart from one amateur vineyard, nothing. However, by 2021, there will be a working winery to support the vineyard at Underscar Manor, just north of Keswick in Cumbria. This historic site, which boasts a (disgraced) Russian oligarch amongst its former owners, is rapidly approaching wine production. Watch this space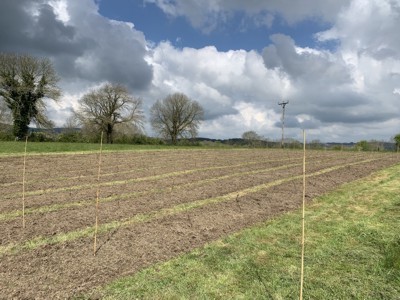 Gwernaffield Vineyard
Planting by the Whitehouses at Gwernaffield-y-Waun near Mold began in 2019 and is continuing. The 2019 plantimg was of Madeleine Angevine and Bacchus. The later ones were Seyval Blanc and Pinot Noir. This probably represents one of the most northerly plantings of PN on the western side of Britain. When active, this will be North Wales' seventh active vineyard. Detals of the three currently in production- Pant Du, Conwy and Red Wharf Bay are available via the Commercial Vineyards page.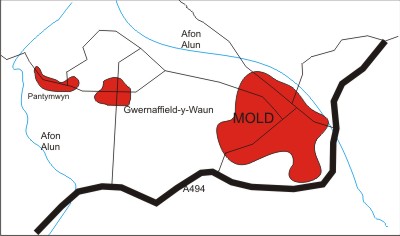 GWINLLAN Y DYFFRYN-VALE, NORTH WALES' LARGEST VINEYARD
Planting for North Wales' largest vineyard started in May 2019, with specialist machines inserting the vines at Dre Goch Isaf near Denbigh. Events were recorded on a drone-video, online at the vineyard Facebook page. By June, the first signs of life were emerging and in September, the leaves were well established on the Seyval Blanc and Solaris vines. In 2020, the hard work began! In March, the trellising posts were inserted and the weeding began. Cultivating between the rows was simple with a tractor and disc harrow. Between the vines involved manual labour, and stiff backs!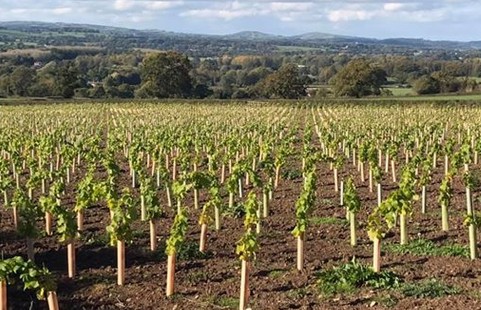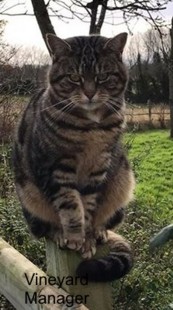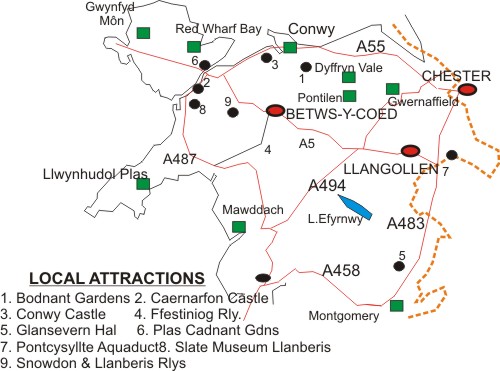 Welsh Vineyards Tourist Leaflet.
The WVA released its tourist leaflet at the 2019 AGM. This leaflet can be viewed by clicking on the map opposite. It can then be printed.
MONTGOMERY STEAL THE SHOW AT CARDIFF 2019
Wines from seven vineyards across Wales have been recognised at the Welsh Vineyard Association's annual Welsh Wine Awards. 35 wines were tasted at the event, which was held at Llanerch Vineyard in the Vale of Glamorgan. The wines were split into five classes: white, rosé, red, sparkling white and sparkling rosé, which were then judged blind by a judging panel of renowned industry experts: Michael Harrison, Simon Awdry and Yannick Joseph. Each wine was given a score out of 20, with those scoring 14-15.9 awarded bronze, 16-17.9 awarded silver and 18-20 awarded gold. Overall, 29 out of the 35 wines won awards in either bronze or silver. One wine was then chosen as the overall winner for each individual class, with an overall winning wine receiving the Thomas Davies Memorial Trophy.

Montgomery Vineyard stole the show, winning four of the five classes - red, rosé and sparkling rosé - as well as taking home the Thomas Davies Memorial Trophy for its Sparkling Rosé, 2017.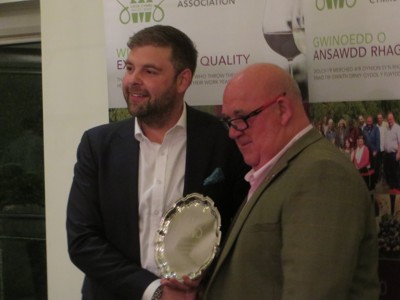 BRYN CEILIOG VINEYARD CLOSES
While Wales sees many new plantings, Ian Symonds at Bryn Ceiliog near Cardiff has decided to close his vineyard.Bryn Ceiliog Vineyard.
The vineyard is located at Cock Hill which forms part of the Symonds family farm, Beggan Farm, near Leckwith, in the Vale of Glamorgan, where they rear, organically, pedigree Welsh Black beef cattle. The vineyard was planted in 1999 as a means of diversification away from beef, which was mainly their sole business line, on a field that seemed to meet all the criteria for good vines. The vineyard covered 4 acres comprising 3 acres of green grapes (mainly Orion, Phoenix and Reichensteiner, with smaller plantings of Bacchus, Kernling and Findling) and 1 acre of red grapes (core variety Rondo with smaller plantings of Dornfelder and Regent. With the benefit of hindsight Ian believes that they should have planted fewer varieties and, in order to maintain a non-spray organic culture, should have stuck with Phoenix and Orion and, if we were going to do red wine at all, it should have just been Rondo. Click here for the full article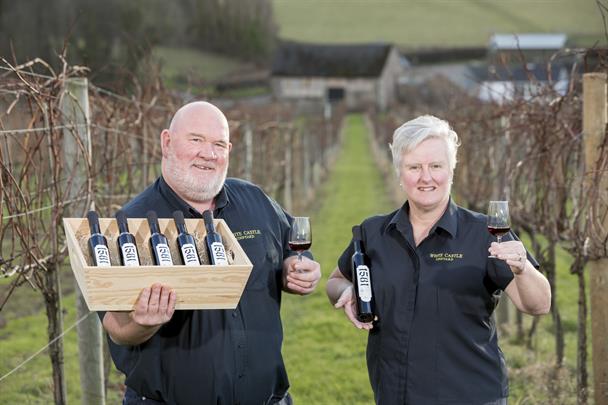 WALES' FIRST FORTIFIED WINE

The result of four years of planning by White Castle's owners Robb and Nicola Merchant, the new alcoholic drink is similar in style to Port known as '1581'
Says owner Robb Merchant "Since we've had the vineyard it has always been a dream of ours to create a Welsh fortified wine. To make it you have to have a quality grape and were just waiting for the right harvest and volume to be able to do it." Adds Robb, who is also chairman of the Welsh Vineyards Association, " The quantity of grapes harvested in 2014 allowed us to put aside a 225-litre barrel of Regent wine with which to make our Welsh fortified wine. The result is drink that is light in texture, very fruity, and reflects what we do at White Castle." Available as a limited edition, a barrel has now been put away after each harvest and stored at the Three Choirs winery in Newent, which produces White Castle's wines. 1581 joins White Castle's range of red, white, rose, and sparkling wine which since the vineyard's first harvest in 2011 have reaped numerous national wine awards. The new beverage has close links to the area's heritage and takes the name 1581, from a grade II* listed Tudor barn at the vineyard, which is situated in the village of Llanvetherine near Abergavenny and Monmouth.