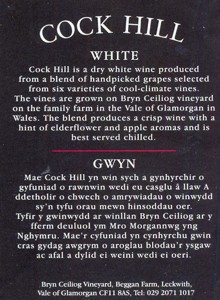 The vineyard is located at Cock Hill which forms part of the Symonds family farm, Beggan Farm, near Leckwith, in the Vale of Glamorgan. Where they rear,, organically, pedigree Welsh Black beef cattle. The vineyard was planted in 1999 as a means of diversification away from beef, which was mainly their sole business line, on a field that seemed to meet all the criteria for good vines. The vineyard covered 4 acres comprising 3 acres of green grapes (mainly Orion, Phoenix and Reichensteiner, with smaller plantings of Bacchus, Kernling and Findling) and 1 acre of red grapes (core variety Rondo with smaller plantings of Dornfelder and Regent. With the benefit of hindsight we should have planted fewer varieties and, to maintain a non-spray organic culture, should have stuck with Phoenix and Orion and, if we were going to do red wine at all, it should have just been Rondo. The vineyard had GDC training but kept the rows space widely at 3.6m so that they could utilise general farm machinery for maintenance. The consequence was that yields were lower than could be expected for a 4-acre vineyard. Nevertheless they were able to produce a very good dry white wine every year that the vineyard was in production (2003-12), reaching the final (but not winning!) the True Taste of Wales Food and Drink Awards in 2010 Bryn Ceiliog also produced a passable red, but only in the good summers, of which 2006 was exceptional.

The vineyard required an almost full-time involvement from Ian but with such small yield, it was never going to be anything other than marginally profitable and certainly not profitable enough to justify the amount of his time that it was taking. The future of the vineyard was becoming questionable but the final decision was taken out of their hands when Ian was diagnosed with cancer in 2013. I have recovered from major surgery with the exception of not having enough energy to run a vineyard. He had hoped that one of his daughters with take over the vineyard but, while they loved having a vineyard in the family, were not keen to run it. Ian has been maintaining the vineyard with a view to selling it together with more of their land but all that has been put on hold with so much market uncertainty.

Ian did really enjoy running a vineyard but it is something that is done better when it can be your own personal challenge than when it remains only one of a number of business lines in a commercial operation and he felt that he was forever having to justify the under-performance of the vineyard to his partners.