| | |
| --- | --- |
| | A day out in the Avon Valley |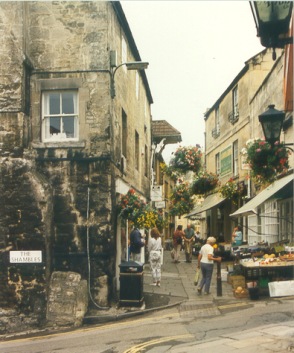 This tour includes Mumfords Vineyard at Batheaston, the American Museum at Claverton Down and the historic weaving town of Bradford-on-Avon. These are only a few of the many attractions in the area. Travelling time will be about an hour.
This route can be approached from any direction. This one will start at the main car-park in Bradford-on-Avon, which is located on the south side of the river. If coming from the direction of the bridge, turn right after about 60 yards. After parking, cross the river by the footbridge in the direction of the church. The old Saxon Church is in front of you. Then turn right towards the town, a distance of a few hundred yards. The shops are located around the Shambles (see photo). At the far end is Woolley Street, where many of the old houses belonged to the weavers whose industry in the 18th Century led to the growth of the town. Following the road right leads back to the town bridge, in the middle of which is the Chapel on the Bridge. This was in fact a prison.
Leave the car-park and cross the bridge, taking the first turn left, then up Masons Hill to the top. Continue on the A363 towards Bath. After about 5 miles, you will reach a junction with the A4 at a roundabout. Go straight across into Batheaston. At the next roundabout, turn right into Shockerwick Lane. At the top, the road forks. Take the right hand fork, and Mumford's Vineyard is on the right after about 60 yards.Drive past the house, and you will find a carpark near to the winery. The vineyard has splendid views from the vineyard over the Avon Valley and sells excellent red and white wines, made from grapes grown in the immaculate vineyard.
Leave the vineyard, and retrace your route to Batheaston roundabout. Turn right and follow the road through the village, and past the big junction with the A46(T) which leads up to the M4. Cross the junction and continue towards Bath. After about a mile, turn left and cross the River at the Cleveland Bridge. After half a mile, turn left along the A36 towards Frome. The American Museum is on the hillside on your left, after about 2 miles. The Museum has extensive gardens and an arboretum of American The museum includes a series of period rooms display American furniture, woodwork silver, glass & American textiles which illustrate domestic life from 17th century to the American Civil War.
It also has a textile Room which features the American
quilt collection and other textiles . Full details can be seen on the web site at trees http://www.americanmuseum.org/. note that the museum is closed from October to March.
Other attractions
Bath city centre
Little Ashley Vineyard (turn left up a narrow lane about a mile out of Bradford-on-Avon)
The Peto garden at Iford Manor (continue along A36 from American museum, turn left after about a mile (signposted Limpley Stoke) Go into village- not under railway bridge) and carry on through Freshford to Iford)
Printer friendly version