English Wine makers

Many of the smaller vineyards of England make their own wine, often with the aid of tiny basket presses and polythene storage tanks. This is especially true in Cornwall, where the vineyards are so scattered that centralised wine making is difficult. Quality control is maintained by regular 'testing' meetings where the wine makers bring a bottle and compare notes.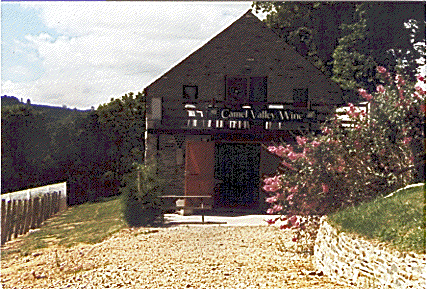 Left-Camel Valley's winery and tourist centre

at Nanstallon
Increasingly, centralised wineries have emerged in England. Of these, the best known are probably Shawsgate in Suffolk and Owen Elias' Chapel Down winery at Tenterden in Kent.
In West Country are Bob Lindo's Camel Valley at Bodmin, Sharpham in Devon and Three Choirs at Newent in Gloucestershire. The latter has long been a serious commercial venture, owned by Oldacre Foods and making wines for virtually all the vineyards of the Severn Valley. Here, the speciality is the strongly flavoured Bacchus wines and fruity varietals. Similarly, Clive Vickers at Halfpenny Green in Staffordshire makes quality wines- both still and sparkling, for a large number of vineyards both in England and Wales.

In East Anglia, contract wine-making is available from Shawsgate and New Hall vineyards.


The usual vineyard clutter as the harvest comes in

The wineries themselves represent a serious investment for the owners. Peter Hall at Breaky Bottom in Sussex built a winery simply because he thought that contract winemakers were ruining his grapes (The subsequent gold medals have proved him right !)
Chemists seemed to form a significant group of early winemakers. In Kent, former Imperial college lecturer John Gibson had considerable success at Bearsted and the Danilewicz brothers made Quality wines at Barnsole near Deal . In Avon, Mumfords was also run by Dr. John Cox
Many pioneers have now been replaced by graduates of Plumpton, Britain's only wine University.
What does set apart the English wines from much of the foreign competition is the wide variety of grapes that can be grown. There are no French style restrictions on what can be grown and grapes such as Schonburger, Reichensteiner and Huxelrebe are encouraged. The result is some wines with strong grape flavours that unlike the popular Chardonnay, do not need a large amount of oak to give them some taste. To me, it is the sign of a good wine maker when the natural flavours come through.
In recent years, there has been increased planting of the quality grapes, such as Pinot Noir )several clones suitable for early ripening), Chardonnay and Pinot Gris. Reisling has never been a successful planting, as it invariably fails to ripen.
---
---
Return to top of page