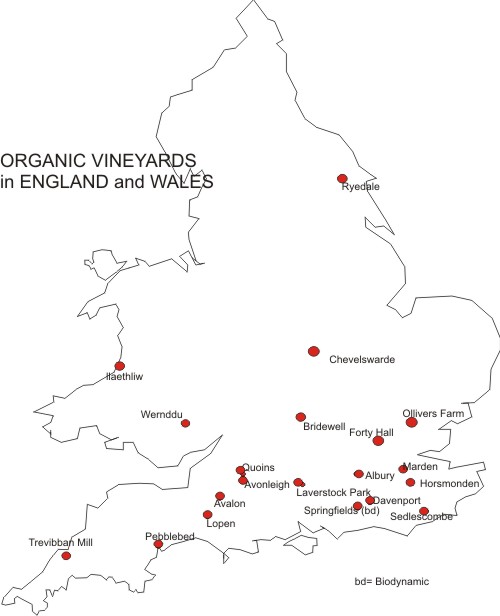 Click on red dot for brief details of vineyards. Many appear in the regional sections with more extensive details
Organic vineyards
Organic farmers have successfully weaned their land off reliance on synthetic fertilisers, and make use of natural products, and, where possible, crop rotation, in oder to maintain the fertility of the land.Diseases such as Downy and Powdery Mildew have to be controlled with approved natutral products, such as copper sulphate or sulphur. Standards in Britain are maintained by the Soil Association, with whom the land has to be registered.
The first organic vineyard to appear in Britain was at Chevelswarde in Leicestershire, planted by John and Ruth Daltry in 1973. It is still goinf strong. For may years, the best known was Sedlescombe in Kent and Davenport in Sussex. However, since the turn of the century, many more have been planted.
Biodynamic vineyards work to principles connected to the seasons and phases of the moon and is baded on the works of Rudolf Steiner One of these principles is that minerals are drawn into the soil better at certain times of day, so should only be applied then.It differs from organic farming by utilising homeopathic and herbal sprays along with estate-made composts to increase soil fertility and strengthen and protect vines from pests and diseases. Lunar cycles, earth rhythms and astrology are also employed to ensure that activities in the vineyard are correctly timed.