Grapes of the North
Oliver Richardson- Secretary, Mercian Vineyards Association
Twenty years ago, the number of vineyards in the North and Midlands could probably have been counted on the fingers of one hand. Now, the MVA has over 70 members, whose plantings range from about 30 vines to several thousand. Several growers are planning their strategy for the next 10 years. With this in mind, a survey form (1) was sent out to all members to find out if any 'best' and 'worst' site characteristics could be identified, and whether experienced growers had any advice for the new generation of planters. This report takes the form of an examination of climate, geology and vine types that are prevalent in the North and Midlands, and concludes with advice from some prominent viticulturalists and site advisors. Many thanks to all those who provided the information.
Why a vineyard here?
I wonder if I had carried out this survey in France, Germany or any old established viticultural country, whether I would have got the same answer to the question 'Why did you choose this particular site?' I suspect that in many countries, a host of environmental reasons- climate, soil, terroir etc. would have been accompanied by an impressive raft of scientific data. In Britain, largest number of respondents said that 'it came with the house'.

This in itself does not explain why the land was turned into vineyards, except that alternative uses seem to be becoming fewer. Bob Lindo at Camel Valley tried sheep farming before finding that grapes were slightly easier to train than either sheep or the dog. In addition, the vine is a very hardy plant and is extremely adaptable to different climatic conditions. For example, research in Canada has produced vines hardy to extreme cold, often down to –40oC. Some vines produce a sugar variant in Winter called raffinose that acts as an antifreeze within the vines, and prevents cell damage. Chardonnay and Riesling are poor at producing this, and therefore will not survive such cold. (2) As yet we do not have temperatures down to this level but still have difficulty ripening Riesling. However, British growers are fortunate in that a wide range of vines are permitted. In France, the Quality wine scheme stipulates that certain areas grow specified vines, so it is necessary to choose the sites that get the best results from those grapes. In Italy there are similar regulations, which appear to be met with disdain, as exemplified by the 'IGT' classification, which effectively means 'I know better than the authorities what grows well'. In Britain, we have a range of approved grapes, but we also have a large number of viticulturalists who are planting in untried regions, and therefore need to experiment in order to find the best grape for the particular circumstances. By doing this, the industry is developing expertise in recognising the vines that are suitable for particular environments. Many vineyards also owe their success to the recommendations of experts such as Stuart Smith, Simon Day and Stephen Skelton who have built up skills over a number of years.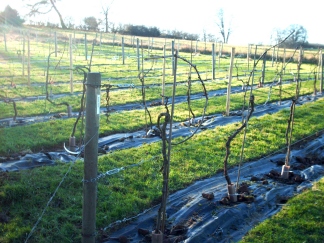 Some sites have been chosen deliberately, especially amongst our commercial vineyards. Three (Grange Farm -pictured, Three Choirs and Welcombe Hills) are planted on or beside former orchards where it was known that fruit would ripen well. Leventhorpe was chosen because it was known as a 'warm field', sheltered in the Aire Valley. Yorkshire Heart was also chosen because 'it offered the best protection from prevailing winds'.
Climate
i) Rainfall
Most of our rain comes from depressions borne on south-westerly winds from the Atlantic, which explains why Lancashire was damp enough to produce cotton thread and west Yorkshire is relatively dry. As Mike Graham at Mount Pleasant (54.078oN) commented 'high rainfall is not good news' . While not quite in the Lake District with its notorious weather station at Seathwaite Tarn (rainfall about 4300mm), Carnforth is fairly exposed. The nearest recording station at Blackburn has an average of 987mm compared with Leventhorpe at Leeds on the other side of the Pennines which averages 643mm. The winds ascend the mountains and drop their rain as they cool, and then warm as they descend on the eastern side. The majority of Mercian vineyards are on the lee sides of mountains (Shropshire and Yorkshire) or in the east where the winds have largely dropped their moisture. The west gets its own back in winter when winter winds blowing off the high pressure anticyclone in central Europe hit the east side of Britain. There is, for example, very little mountainous region between Eglantine and Siberia capable of stopping cold winds. The result is that the area has cold winters- as anyone standing in the Fens in January- or sea-bathing at Whitby in March will know. Shelter trees are a good idea if you have a site open to the east though a cautionary note on windbreaks is sounded by Keith Willingale, who has noticed that poor production can be found in the shadow close to trees.

Exactly where the winds hit the west coast depends largely on the high altitude jet-streams, which tend to move about, and take the rain-bearing winds with them. The number of hollow laughs that greeted the question 'When is the rainfall and when is the frost' bore witness of this. Working northwards, Tony Cox at Bath recorded rainfall of 810mm in the period June 2005-May 2006 and 1006mm in the year following. In Buckinghamshire, Manor Fields recorded about 900mm through the year, more or less consistently and Hale Valley, which is more sheltered, slightly less. In Oxfordshire, Jonathan Abbott at Swerford near Banbury had about 760mm at 190m altitude while Bothy, at 50m had 605mm. In Shropshire, Ian Rowe noted about 700mm, but with a winter bias. In the East Midlands, Chevelswarde had about 625mm, but with no consistent pattern and nearby Welland Valley 300mm. spread throughout the year. Similarly, just to the north, Liz Robson near Leicester commented that the area was sheltered from serious winds, and the rainfall was lower than in the west. In the North-east, records at Yorkshire Heart showed about 700mm a year, invariably at the wrong time.
ii) Frost
Most vineyards suffer some frost damage, from March through into May, dependant on local air drainage conditions. At Harlestone (Northants), frost has been recorded as late as the 30th May in 2007, and damaged the Orion to such an extent that they never recovered. In Buckinghamshire, it is usually in April, but Manor Fields has not had serious damage to date. Antony Chapman at Hale Valley, 153 metres up in the Chilterns said that air frost could be the killer, but the only serious example of this was in 2005. Good air drainage is vital, and shelter from arctic winds advisable. Summerhouse near Pontefract has recorded damage to Seyval and Rondo from cold winds. Other vineyards are more fortunate. At Leventhorpe there is rarely spring frosts after the third week in April due to the topography of the land. A considerable body of water, which includes the Aire & Calder Navigation, surrounds the site which is on the north side of the Aire Valley. During times of frost relatively heavy cold air collects on the four hundred foot escarpment of Swillington Common and rolls down into the valley below. In the meantime "warm" air from the southern end of the Vale of York funnels up into the vineyard and becomes trapped beneath the relatively cold air giving a temperature inversion and so protecting the vines. Frost effects vary widely. One interesting report from outside the region concerned frost at Yearlstone Vineyard in Devon. Roger White (3) noted that "(in 2008) We have had about 50% Madeleine Angevine loss - around 20% on the Pinots (Gris & Noir). One definite conclusion is that untied down vines lost almost nothing - half a row not tied down had almost all buds intact.....right next to another half a row which had lost 50%.The Pinots were either more resistant, further behind, or on the steeper slope the frost rolled down more quickly than on less steep sections." After a query, he also reported that " the frosted buds are very often on the horizontal plane as the cane arches up and down - in other words, at the top on the flat bit ...not exclusively but there does seem to be a pattern." Again, outside the area, Jill Macready of Ickworth (4) commented that "We have found over the years (13 year old vines) that leaving any bud rubbing, shoot thinning and shoot positioning, until the end of May is a good idea. We have been fairly badly hit by frost throughout the vineyard, more so at the bottom where you would expect the frost to roll. (it acts like water). We tend to leave things that have been affected until we see what grows away and what shrivels to crisp brown stuff. Don't do anything. Don't cut back the dead parts especially don't cut into lignified wood. If you have nothing else in the world to do, you could rub off the dead parts, but they will shrivel to nothing anyway. New shoots will appear in about two weeks (wild guess really as I haven't any records), but they won't be as fruitful as the first ones. That doesn't matter you in your second year but next year, your first cropping year, it will matter more. "

The solutions are varied. Some vineyards use heaters. Martin Seed at Worthenbury grows classic varieties within polytunnels, and uses a temperature-triggered warm water pipe system to prevent frost damage.
| | | | |
| --- | --- | --- | --- |
| Geological Periods | Date started | Period | Areas |
| | -65m | Cretaceous | Chalk Wolds, Chilterns |
| | -145m | Jurassic | Oolitic imestone ridge, Cotswolds |
| Younger | -200m | Triassic | Shropshire sands. Midlands |
| Softer | -250m | Permian | |
| | -300m | Carboniferous | Wenlock Edge, Pennines |
| | -360m | Devonian | Clee Hill, South Marches |
| Harder | -445m | Silurian | North Walian Marches |
| Older | -415m | Ordovician | Welsh Mountains |
| | -445m | Cambrian | Merioneth |
| | -480m | Pre-Cambrian | Malverns |
Geology
The geology of central Britain is dominated by the Cambrian mountains in the west, the Pennine backbone, most of which is too high and cold for vines and by the ridges of Oolitic limestone and chalk that wind their way up from Dorset, through Northamptonshire and Lincolnshire, to the east coast of Yorkshire. The chalks are made up of the remains of microscopic sea creatures. Never high, these uplands still provide some shelter from the easterly winds at Ryedale. Mill Lane and Chevelswarde both lie in areas of light clay loam to the west of the chalk, and to the west again are the Oolitic limestone series (comprising limestone, clays, ironstone and Northampton sands) which were laid down in the Jurassic period. In Northamptonshire and North Yorkshire, the clay was heavily exploited for brickworks at Peterborough and (formerly) in Bedfordshire. The ironstone fed the Steel works (now closed) at Corby, at Scunthorpe, and in Cleveland at Middlesbrough. The rock is a mellow brown and underlies many of the Northamptonshire vineyards. At Harlestone (Northants) Steve Pleasance says of his site
"The Oolite rests on top of the Lias and is subdivided into the Inferior Oolite and Great Oolite. It forms the most significant component of Northamptonshire's geology. The lowest oolite bed is the Northamptonshire Sand reaching depths of around 80 ft and outcropping significantly around Northampton. It is the Northamptonshire Sand which contains the distinctive ironstone with which so many buildings in Northamptonshire and surrounding counties are constructed. The Northamptonshire Sand acts as an aquifer, lying as it does between beds of limestone and clay, and, together with the Middle Lias, is a source of tributary springs." The upper layers also involve Cornbrash, an old English agricultural name applied in Wiltshire to a variety of loose rubble or 'brash' which, in that part of the country, forms a good soil for growing corn. The photo above shows a section through vineyard soil at Bow-in-the-Cloud down to the bedrock (Oolitic limestone).(Photo by Keith Willingale, Bow-in-the-Cloud) A knowledgeable visitor said that it reminded him of a profile of soil in Burgundy.

Many of our vineyards have taken advantage of sheltered valleys, where overlying glacial and river soils produce a more fertile soil. In the west, north Shropshire (5) has Triassic and Permian sandstones, which produce the well-drained soils visible at Worthenbury, Commonwood (photo: below) and Wroxeter vineyards. The central part of the county features the limestone scarp of Wenlock Edge with Silurian shale beds dipping south-eastwards on either side, often with a boulder clay covering. Morville St Gregory, Morville Hall and Hargrove Estate lie within this area. (6) Further south is Ludlow vineyard on the edge of harder Devonian sandstone at the foot of the Brown Clee. These sandstones continue into the southern Marches, often with a covering of glacial drift. In the south, it is interrupted by pre-Cambrian area in the Malvern Hills, comprising metamorphic rock with igneous intrusions. Vineyards are well sheltered in the valleys of these areas and are largely on clay loam, as at Tiltridge and Frome Valley.In Yorkshire, the rocks in the centre are largely from the carboniferous era- with Leventhorpe lying on sandstone. Summerhouse is on a ridge of magnesian limestone, quarrying of which provides flux for the steel indudtry. In North Wales, the Geology of Anglesey (7) is to say the least, complex and worthy of a book in its own right. Ty Croes and Llanbadrig both lie on sandy loam. Selley (8) identifies four basic features of soil necessary for cultivation. These are mineral content, topography, porosity (space between rock particles that will hold water) and permeability (connections available between spaces). He also suggests that vines will grow best on fairly neutral soils. If the pH is below 5, then the soils are probably too acidic, and if above 8.5, too alkaline.
Aspect and Altitude
As a result of temperature loss at 0.6oC per 100 metres, and the consequent difficulty in ripening, our quality wine scheme does not allow for vines grown above 220m (720feet) and Regional wine below 250m (820 feet) to be classified as anything but Table Wine. In this study, there were a few vineyards at or near this altitude. Grange Farm near Banbury is at 190m and Ludlow between 150 and 200m. In addition, south facing slopes benefit crops as the sun's rays strike from the south (nearest overhead sun is at Tropic of Cancer) The further north, the less the angle of sunlight and the less effective the heat so the less ability to ripen grapes. Lack of south facing slope thus gives an advantage, but does not prevent viticulture. Three vineyards studied, Astley and Ffynnon Las and Manor Fields, are north or north-east facing. Several, including Bothy, Commonwood and Wroxeter have virtually no slope at all. However, it has been suggested that the low angle of sunlight may prevent Scotland from successfully ripening grapes, although the Swedes are trying hard. (Four vineyards so far).
Rock type and vines
Certain types of rock are often associated with successful vine growing. Chalk, as witnessed in the Champagne, is believed to be very effective. However it also has disadvantages. Hale Valley finds severe iron take-up problems in the Chilterns. In contrast, the South Downlands are developing large numbers of vineyards producing Champagne varieties so the problem there seems less acute. Apart from in Lincolnshire and the Yorkshire Wolds, there are few examples of chalk ridges in the north, so the problem of iron deficiency has not- as yet- been reported in Mercia.

Survey results show a wide variety of rock types. Sandstone of various ages is common, especially in Shropshire and the southern Marches. This allows free drainage, and vines are generally happy as long as the roots are warm and dry. The dry topsoil also encourages vines to put down deep roots in order to find water. Over-rich soils can actually discourage some vines, as the leaf growth gets out of hand. In New Zealand, they recommend harsh treatment for Pinot Noir in order to produce a full-flavoured wine. Treat it well, and it will get bored and produce a flabby wine.
Soil
Successful Vines
Unsuccessful vines or Serious problems
Clay/loam
Phoenix, Seyval Blanc,Rondo, RegentMadeleine Angevine
*Pinot Noir
Regent,
Kerner (mildew prone)
Reichensteiner- no growth
Siegerrebe- wasp s
Frueburgunder – tiny crops
Schonburger- poor fruit set, late
Dunkelfelder – tiny crops, untidy* Madeleine Angevine is the least successful on Midlands clay soil
Medium Loam
Madeleine Angevine, Phoenix
Chalk
Bacchus, Kernling, Seyval
Severe iron deficiency
Cornbrash/ Jurassic Limestone
Madeleine Angevine, Kerner
Pinot Gris, Auxerrois, Rondo
Solaris, Regent, Schonburger
Seyval, Phoenix on S04
Madeleine Sylvaner
Chardonnay
Some dead-arm wilt on Regent in 2007,
Bacchus and Orion (frost)
Bacchus can develop a straggly habit, with low yields.
Sandy loam/clay
Madeleine Angevine, Bacchus
Pinot Gris, Regent,
Rondo,Orion,
Siegerrebe, Phoenix
Ortega
Muller Thurgau
Seyval- spasmodic
Phoenix- low crop and botrytis
Reichensteiner- very unhappy
Optima- poor yields, disease
Sand & Gravel- High pH
Rondo
Gagarin Blue – crops well but poor wine
Phoenix- botrytis
Alluvial Drift
Seyval Blanc, Schonburger
Dornfelder, Pinot Noir
There is no substitute for practical experience and experimentation. Apart from spring frosts, the main problems involved the type of vines grown. Huxelrebe was found to be highly disease prone and produced very high acids. However reactions as to its viability have differed. Three Choirs (sandy soils) have ceased its production, while Bothy (also on sand) and Tiltridge (clay/loam) commented that in good years, it produces some of their best wine. Several of the growers had experimented with different vines before settling on their major varieties. On a peaty loam in the Midlands, Rondo and Triomph failed, with Rondo disliking the wet light soils and Triomph being especially prone to hens and chickens. Tiltridge commented on poor quality of grapes from this latter vine. Triomph has also been grubbed up at Mount Pleasant, to be replaced by Rondo which produces better wine. Several commercial viticulturalists are constantly experimenting with new varieties. Wroxeter put in Solaris a few years ago and is currently pioneering the wine. Welalnd Valley has 5 main varieties and 6 'also grown' including Acolon and Solaris. He has also grubbed up 4 others that did not suit his site. Ryedale includes it amongst the 7 main varieties on its 2 vineyards, with experimental plantings of 4 others. Reichensteiner caused problems on several sites, failing to grow in Northern Ireland where it seemed to dislike the high rainfall. Several of the (now-closed) Eire vineyards grew it- that may be one of the reasons for their failure. It also failed under very sandy conditions in the East Midlands. Reports on the Seyval, traditionally a reliable cropper, suggested that the still wine was indifferent in quality even though it is a good base for sparkling wine. In Lancashire, it cropped also spasmodically. The newer variety, Phoenix has received mixed reports. One grower suggested that it is reverting to its parents (Seyve Villard and Bacchus). On a high pH soil, it has low crops and suffers botrytis, despite being sold by garden centres as being resistant to mildew. Several growers commented that the wine is better when blended. Muller Thurgau seemed to gain universal condemnation. When vineyards were developed in the 1970s, it was widely planted, especially in East Anglia. However, growers today comment on its lack of resistance to disease, and have largely grubbed it up. I note that the new edition of Selley (8) suggested that it might in future be suitable for growing in Snowdonia or the Lake District.
Most popular grapes.
It is difficult to home in on a particular grape for a particular type of soil, since growers, especially longer established ones, like their vines because they can make excellent wines with them. Hence varieties such as Findling and Madeleine Angevine will always be popular as they produce good wine. Solaris is gaining in popularity, largely as a result of its high sugars and easy growing habits. So far, only Wroxeter have marketed a wine from it. However, several viticulturalists have experimented with a wide range of varieties and have specialised with the ones best suited to their environment.

Finally, some advice and comments from growers with long experience. David Bates at Welland Valley. "I am coming around to the view that my clay soil favours red grapes and red wine. My white vines tend to be somewhat average, although sparkling wine seems to be better than still wine. I think the latter is due to the dry soil producing high acidity. I suspect Seyval does well on clay. I do believe that choice of variety has t take into account reliability and good cropping levels, not just the quantity of the wine. I believe new growers should plant a trial area of different varieties in addition to their main planting. I am not afraid to take out varieties if they do not perform and replace with varieties that do!" Viticulturalist and author (9) Stephen Skelton added to these thoughts 'As for planning a new site – choose as warm a site as possible with as much shelter as possible and as near to France as possible. The best wine comes from the ripest grapes. Where are the most successful UK vineyards? In the south of the country of course. As for what would I not plant – probably Muller-Thurgau and the other unpronounceable cross bred varieties. Bacchus is OK, Pinot and Chardonnay on a good site also OK. I would avoid all the odd-ball, untried varieties – let someone else plant them and make the mistakes.
Becoming are terroir-ist
Terroir: "'that quasi-mystical quintessentially French term beyond the comprehension of Angle-Saxons" (Richard Selley) For those wondering about the viability of their site, check the following features.

Soil- texture, nutrient availability, organic content and water supply. If the soil is porous, then excess rainfall will drain away. If it isn't, then the roots will get waterlogged unless drainage is installed.
Climate – rainfall, frost, number of growing degree days where the mean temperature is above 10oC.
Slope – are you getting maximum sun exposure
Prevailing wind- if it is prevailing too much, put in a wind break.
Frost risk – make sure there is frost drainage.
Do all these and, if the answers are satisfactory, you could have a site suitable for vines of some type. The next step will be to experiment and find out what will grow.
Bibliography & references

Questionnaire to all members of the MVA plus selected neighbouring vineyards
Plocher T & Parke, B. p8 Northern Winework- growing grapes and making wine in cold climates. Northern Winework inc, Stillwater, Minnesota 2001
Roger White (Yearlstone vineyard. ) Discussion on UKVA group discussion site. May 2008
Jillian Macready (Ickworth vineyard) Discussion on UKVA group discussion site. May 2008
Shropshire Geology (ud) at http://www.shropshiregeology.org.uk/shropgeol/top20north.html read on 22nd April 2008
Silurian Software (ud) The Silurian in Shropshire available at http://www.silurian.com/geology/salop.htm read on 22nd April 2008
Geomôn Geology of Anglesey (ud) at http://www.geomon.org.uk/geology.htm Read 22nd Apr 2008
Selley, R.C. p41 The Winelands of Britain: Past, Present & Prospective. Petravin, Dorking Undated
Skelton, S. 'The wines or Britain and Ireland' Faber & Faber London 2001
Internet web sites (various)